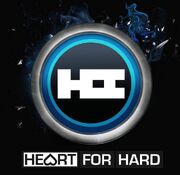 Heart for Hard is a project that consists of a radio and a label. It also hosts events in the Netherlands and Belgium.
Starting in 2009, they have been broadcasting several concepts such as: Indus3, Heart for Hardcore, Lunatek, Phunk it Up Radio and the popular Heart for Hardstyle radio show, which was nominated in the now defunct Fear.FM Awards of 2011[1].
In 2012, Heart for Hard joined forces with Bass Events to host the official Bassleader Radiospecials with guestmixes by Frontliner, Radical Redemption, Adaro, Crypsis and more. Shortly after this special, they also hosted the official Alcatrazz Radiospecial with Geck-O.
The Heart for Hardstyle Radioshow has its own residents. Next to these residents, it invites guests from labels such as Fusion, Scantraxx, Theracords and Dirty Workz.
Since 2009, it hosts events in the Netherlands and Belgium. Known concepts are Heart for Hard, Hardcore Community, Heart for Hardstyle, Heart for Hardcore and IDentity.
Current radio residents
Edit
Heart for Hard Records
Edit
Heart for Hard also has an active record label[2].
Release catalog:
Indus3 is a sublabel for experimental and raw hardstyle[3].
Release catalog:
References
Edit
Ad blocker interference detected!
Wikia is a free-to-use site that makes money from advertising. We have a modified experience for viewers using ad blockers

Wikia is not accessible if you've made further modifications. Remove the custom ad blocker rule(s) and the page will load as expected.